Crack the Google Pack
We will turn up your ROI. Guaranteed.
A lot of webmasters don't provide monthly ROI reports because they're worried about offending their clients with numbers that aren't great, or making them feel guilty for not spending enough money on marketing services.
If this sounds like your current situation, it's time to look elsewhere – and since our money-back guarantee removes the risk, there's no logical reason NOT to explore a partnership.
Our onboarding process ensures budget and expectations are aligned from day one.
"The only way you are going to have success is to have lots of failures first."
Sergey Brin / Google Co-Founder
Monthly SEO Pricing
Minimum Package Price Shown
Freemium X
First 3 Months
Try-Before-You-Buy
Pre-Screening Required
Agreements Not Contracts
Monthly Reports:
Month 1: Google Business Profile Signals
Month 2: NAP/Local Citations
Month 3: Google Maps Citations
Local X
Month 4 & On
Website Signals:
Site Migration/Hosting
Google Analytics
Keyword Analysis
Site Structure
Sales Funnels/Goals
On-Page Content X
Schema Markup
Code Optimization
Site Speed
Nation X
Nationwide/Global
Large-Scale Campaigns
Dedicated SEO Coach
Analytics Dashboard Access
Monthly C-Level Reports
Quarterly Assessments/Projections
Monthly NAP/GMB/GMaps Signals
Research X
Local X Included
Complete Content Management:
Content X
Social X
Outreach X
Authority X
How we can help
According to Google, 4/5 consumers use search engines to find local information.
Local SEO, or Search Marketing, is vital for businesses looking to up their conversion game. As of last year, 46% of Google searches are looking for local information. That's 2.7B searches per day.
Search Marketing also increases your business' visibility on the internet by sending the specific signals Google is looking for. Most importantly, Local SEO targets people that are ready to buy right now.
How we can help
The Local SEO algorithms for Google, Yahoo and Bing all revolve around three pillars.
Local business results are based primarily on relevance, distance, and prominence. A combination of these factors helps find the best match for your search.
For example, Google algorithms might decide that a business that's farther away from your location is more likely to have what you're looking for than a business that's closer, and therefore rank the site higher in local search and Google Maps results.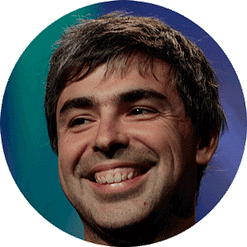 "If you're not doing some things that are crazy, then you're doing the wrong things."
Larry Page / Google Co-Founder