Let us help you reach the top.
Our Freemium X package allows you to take us on at absolutely no risk for the first three months.
All of our services deliver exponential ROI over time and include a 100% Money Back Guarantee.
---
Why Hire Us?
I have been able to provide for my family using my SEO skills in Oklahoma and Texas for 15 years– both in towns where I had never lived and knew very few people.
---
We can show you multiple top-ranking clients.
Google finds our Texas clients at the top, all the way from Colorado. Take a look at two examples below.
Pre-screening ensures budget vs expectation feasibility.
Rather than just taking every client, we do the research to make sure we can satisfy expectations within your budget.
We feature a Try-Before-You-Buy Business Model.
Our freemium package is extended to new businesses who pass our pre-screening process and choose to work with us.
---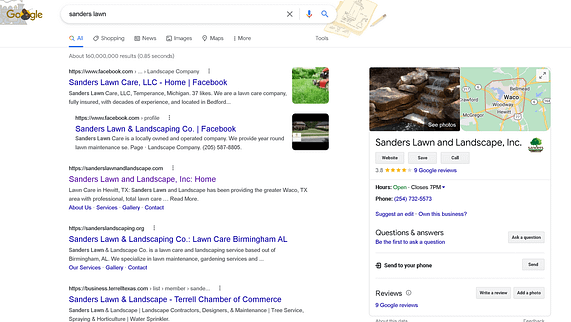 Sanders Lawn & Landscape
I did Steve's website before I had a team; mainly using Yoast SEO and optimizing for speed and conversions.
Today, I use these methods along with AI to optimize content; our AI toolset changes the game, and allows a small team to deliver exponential ROI to hundreds of clients.
---
#1 National Local Brand Ranking
We own the top spot out of about 160M results for the brand "Sanders Lawn," as illustrated in the sidebar.
#1 National Organic Brand Ranking
As Facebook is not a competitor of ours, we own the top spot below it in the organic search results.
Total X Package
Our Total X package bundles website hosting, maintenance, & monitoring with our Managed SEO.
Feel free to contact Steve
Please call Steve at the number listed in the image for a referral that dates back almost 10 years.
Our model uses a 90-Day process with monthly reporting
At Omnimarketing.Tech, we're not only about your today–we're about your tomorrow.
As Lead Project Manager, I prepare each monthly report to look at the next 90 days.
Then, when I prepare the report for the next month, I use what I learn from your progress to make small adjustments to the plans of the following two months, all so you can understand exactly where your investment is going.
---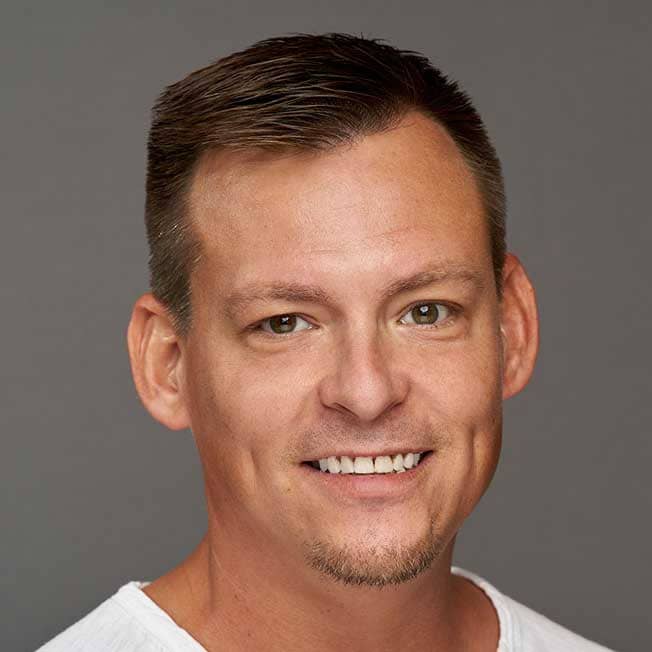 I help scale businesses by increasing lead generation through Google Search and ensuring their infrastructure will meet scalability demands.
– Blake Burroughs / Small Business Owner, Elite SEO Professional, Web Developer, & CompTIA Secure Infrastructure Specialist
---
How I Got Started
I got my first taste of Google in the summer of 2007 when I went to work for a national local listing agency, ezlocal.com.
I went out and got businesses to subscribe to their listing packages, and was able to have conversations with SEO professionals along the way that changed my life forever.
Computer Solution Technology Services

While I was learning to speak Google, I turned a successful computer repair business into a full-featured MSP that served clients across Waco, TX for a decade.

I maintained the top ranking for "computer solution," identified market opportunity keyword phrases targeting Apple device owners, and became the #1 Apple support technician in town within 7 months.

I maintained a 4.9 Google Rating with over 60 reviews because my team is focused on customer service before, during and after the sale.
Added Value

I still offer MSP services to businesses in Texas and Oklahoma, and offer added value when you bundle your IT services with myself and my partner provider, a well established local MSP that has been doing business right for over two decades.

As a CSIS I also have an understanding of how you will need to scale your infrastructure to prepare for exponential growth.

I can work alongside current IT staff or an MSP provider to ensure the process runs smoothly on all ends.
Current Phase: Pre Pre-Launch

We are in the Pre Pre-Launch phase of our launch.

As this is the first stage, we are sourcing leads manually around Colorado Springs, looking for potential partnerships whereby we can come together and bring extra value to both parties.

The main issue we are attacking in this phase is our lack of case study examples with local businesses–and having only lived here for a few months at the time of this writing, this is to be expected.

During this phase, we are using a freemium offer as our primary lead magnet.

At the end of this phase, we will determine if we will extend this offer into the pre-launch phase, which focuses on automating our onboarding processes.
Freemium Offer

Earlier I asked you why you should hire us–and a major reason is because for a limited time, we are using a try-before-you-buy business model.

We take all our clients on with no contract. I advise them in 90-day increments, and we show them progress from month one.

Start Phase One Now

Simply Give Us Your Business Information

As we have standardized our SEO approach, I will provide our basic monthly package to you up front, for three months.

The areas we address (that I will tell you about) in the first three months are:

Should you choose, you may also hire us on to redesign your website, which will exponentially increase your ROI for years to come.

We take 60-90 days to research your industry for keyword feasibility and opportunities for low-hanging fruit, or phrases you almost already rank for.

Step One: Local Listing Audit

The first month, you will simply give us the information we need about your business, as well as access to your Google My Business Page and your Google Webmaster dashboard.

Start Phase One Now

Simply Give Us Your Business Information

NOTE: If you don't have or don't know what these are, don't worry! That's what we're here for.

Step Two: We Work

Then, we will carry out that month's SEO tasks, with the understanding that when we show you progress, you will make payment and move on to the next phase.

The first phase most likely won't be enough to drive profits–but we will be able to show you ranking and impression improvements.

We also provide reports of all work done that can be checked and verified simply by clicking on each item.

Step Three: Report & Discuss

Once I see the spike from our work, I will provide you with a report and we will discuss payment and moving forward.

Upon completion of the third month, you would also prepay for the following 2 months. As we do not use contracts, we simply have clients prepay a month in advance.

That way, in the unlikely event you should decide to cancel your services, we have a month to fill your opening.

This also ensures we are paid throughout the transfer process of any domain or website.
A Note on Current SEO Contracts

If you are currently paying an SEO provider, one of the services we can provide to you is our SEO Sniper.

If you were happy with your SEO, you probably wouldn't be reading this right now, and we would love to help.

SEO Sniper targets businesses that we feel are not being serviced like they should be.

Once you are 90 days or less from the end of your contract, or are willing to discuss breaking it, I will personally start auditing their services for you.

If everything looks right, we will start to boost your SEO for you, using techniques I can show you aren't being used, and start to earn your trust before we enter into an SEO agreement.

Simply fill out our Phase 1 form via the links above or at the bottom of the page to find out if you qualify.
---
Don's Chimney Service
I advised Don not to purchase any of my SEO off-page services, as I didn't think much would be needed to fight the chimney market in Texas.
As you can see, he holds the #1 national organic listing— below the local box, which contains local Colorado Springs listings.
---
#1 National Organic Brand Ranking
We own the top organic spot out of about 520M results for the brand "Dons chimney."
On-Page, Speed, & Conversion Optimization
This is an example of the impact the right website development team achieve using best-practices.
Website X Package
Once you reach the ranking you desire, we can turn off SEO services and continue watching your competitors.
Please call Don at the number listed in the image for a referral that dates back almost 10 years.
---
Thank you for your time.
I hope by now you understand that I don't offer our services to everyone– and since this is the Pre Pre-Launch, you probably found this page through a visit from me or an email.
If needed, I can also provide you with platinum IT & MSP services that will make sure your business can handle the increase in demand our services will surely bring you.
We screen all our clients, and only make promises we know we can keep, backed by a 100% Money-Back Guarantee.
---
Pre-Screening Form
---
To see if your business qualifies for our freemium services,
please fill out the form below.
Be blessed!
---